IMCA Conference at Aviva Stadium
October 19, 2017 @ 1:00 pm

-

5:30 pm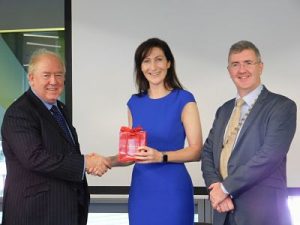 The only certainty in business today is continued change and against this backdrop it won't be the strongest businesses that will survive, it will be those that remain agile and responsive to change. Management consultants have a critical role to play in equipping their clients' businesses with this capacity, to enable them make better, more informed decisions quicker, and thereby help them to capitalise on opportunities to create and sustain competitive advantage, and survive and grow.
The IMCA 2017 Conference focused on seizing opportunities in a time of change. Over 150 delegates were in attendance, including representatives from IMCA Accredited and Registered Consulting Practices, individual members, Academic Directors and students from IMCA accredited post-grad Management Consulting programs and kindred bodies. It brought together a strong line-up of speakers who discussed important developments in the framework within which our profession operates, reflecting on government policy, supports to business, the importance of people and change, and the role of consultants in all of this.  It also showcased a leading business success story, Keelings Group, in recognition of their achievement in building a major food export business from an Irish base. The complete conference schedule is available here detailed programme
The line up of speakers (see profiles) was:
Caroline Keeling, CEO Keeling Group (recipient of 2017 IMCA Medal)
Brendan Foster, President of Dublin Chamber and Partner Advisory Services Grant Thornton
John McGrane Director General, British Irish Chamber of Commerce
Aidan Gough, Strategy & Policy Director, InterTradeIreland
Ger Twomey, Senior Manager – Consulting, People and Organisation, PwC
Paul Cunningham Editor, RTE
Martin Markey, President IMCA
Steven Chambers, Institute of Consulting NI.
The conference provided management consultants in Ireland with an unique opportunity to meet, network and learn in a conference environment.
Fill the form below if you want to register for this event now and pay later.
Please login in to access member area