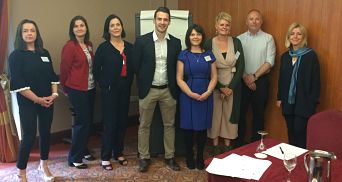 This seminar discussed the power of developing and nurturing your network of contacts to build valuable contacts and ultimately create real opportunities.
Attendees gained insightful tips to help them become more effective in their ability to source, reconnect, communicate and influence potential customers to generate leads and win sales.
The speaker Karen Sommerville is Founder & Director of Call Focus.
Pictured at the seminar: L – R Siobhan Brennan, SalesPlus; Bernie Rushe Cordatus; Derval Kennedy StratAdept; Enda Duignan Future Analytics Consulting; Karen Sommerville, Call Focus; Allyson English, VAE Consultancy; Robert Duffy, Resources Group Professionals and Dervilla Gannon, IDI
Fill the form below if you want to register for this event now and pay later.
Please login in to access member area