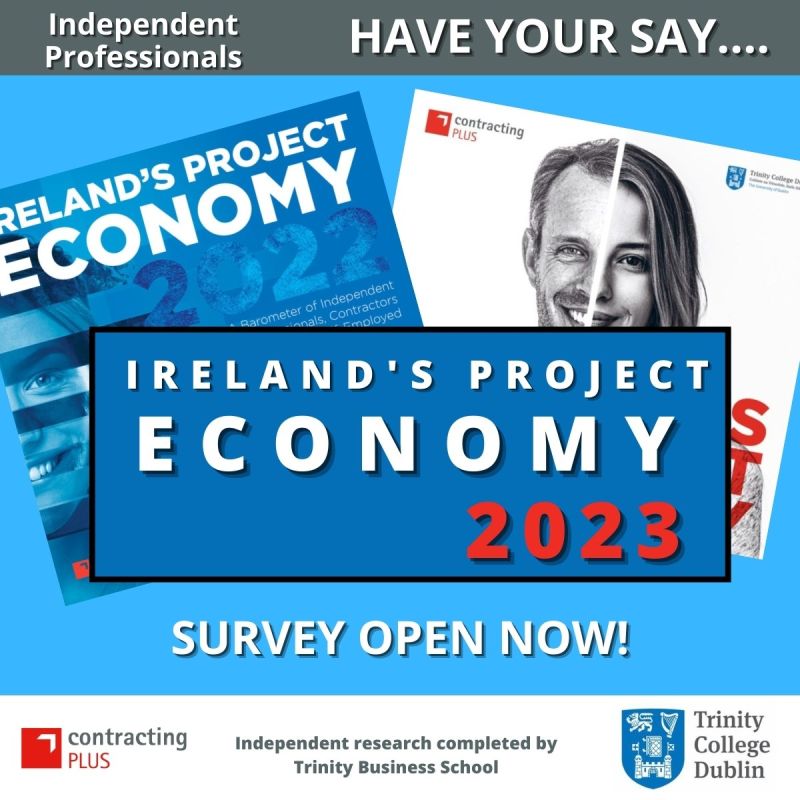 Our colleague Professor Andrew Burke in Trinity Business School has requested members of the Institute participate in their annual survey on  Ireland's Project Economy 2023; a research study into careers and wellbeing of the freelance, independent professional, contractor, and self-employed in the Consulting sector in Ireland.
Project backgroundThis research is being carried out by a research team at Trinity College Dublin, sponsored by Contracting PLUS. Their purpose is to investigate this highly important but largely overlooked segment of the labour market in order to better understand its contribution to business and society.Confidentiality The data collected complies with the ethics policy of Trinity College Dublin. The survey is confidential, and your answers won't be shared with third parties. The results of our analysis will always be in aggregate data form so we will never be publishing any individual's data.Why should I participate?By completing the survey, you will be:
Be shared with the annual Project Economy Report 2023 as soon as it is published so that you will have access to the most up to date findings on the work, pay and other issues of independent professional contractors;
Be invited to the networking event to develop a strong community of independent professional contractors;
Enter a prize draw of €500 for your chosen charity.
In addition, we have allocated 60 free tickets (worth 95 Euro each) for survey respondents** for the Trinity Business Forum event on March 8 2023 which focuses on the general theme Empowering Good Business.
Thank you again for taking part in this survey.
It should take around 15 minutes to complete.
Please note, you can stop and pause the survey at any point so that you can come back later and pick up where you left off (and even check or change your answers). Irelandsprojecteconomy@tcd.ie
If you have any queries regarding the study, please do not hesitate to email 
Thanks again on behalf of,
Professor Na Fu, Associate Professor of Human Resource Management
Ms Yue Sun, Research Fellow
Trinity Business School Trinity College Dublin, the University of Dublin Dublin 2, Ireland.
Email: Irelandsprojecteconomy@tcd.ie
Professor Andrew Burke, Dean of Trinity Business School