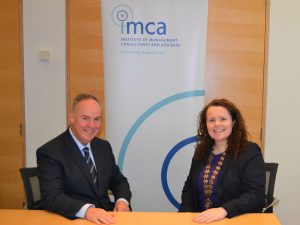 IMCA PRESS RELEASE
The Board of the Institute of Management Consultants and Advisors (IMCA) are pleased to announce the appointment of Patrick Downes as their new CEO.
For Immediate Release:
The Institute today announced that its Board of Directors has appointed Mr Patrick Downes as its Chief Executive Officer. Mr Downes who replaces Denis McCarthy, previously held the position of Managing Partner of Lionheart Management Consultants. The President of the IMCA Eimear Duffy said "That after a comprehensive search process we are delighted to appoint Patrick, who brings a wealth of experience to the role and there is no one better placed to lead the organisation during this time of exciting transition. I look forward to working closely with him as the Institute continues to grow and prosper."
The IMCA is Irelands national and internationally accredited professional institute for management consultants and business advisors in Ireland and who represents and supports the interests of the advisory profession. The Institute is the only authority which is authorised to award the CMC (Certified Management Consultant) designation in Ireland and has an extensive membership network across the Island.
For further information please see our website at www.imca.ie
Or contact: ceo@imca.ie