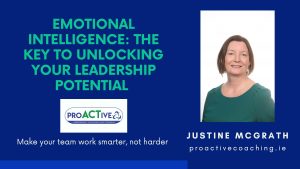 The Institute is delighted in conjunctions with our partners at Prospectus Management Consultants to host Justine McGrath as she explores Emotional Intelligence: The Key to Unlocking your Leadership Potential
30 April 2020 at 10am 
This 1-hour webinar will address the following:
How we understand and manage our behaviours and emotions in the workplace.
Develop awareness of how we perform under pressure and how we react to others when they are under pressure.
Gain an understanding of Intrapersonal (self-awareness and self-management) EQ versus Interpersonal (social awareness and relationship management) EQ.
Experiential learning exercises to understand and improve your emotional control.
The Good News! How your Emotional Intelligence can be developed and improved for increased self-awareness of your leadership potential.
About Justine McGrath.
Justine McGrath is an executive coach and trainer, who specializes in helping leaders to develop their self-awareness to better understand how their emotions and behaviours impact on themselves and others. She helps her clients analyse, assess and fulfil their potential. Justine set up ProACTive Coaching in 2008, however it was then called Equilibria Coaching. She re-branded the company in line with a new strategy in 2019.
Justine is a qualified Executive Coach (Positive Success Group 2007) She also has qualifications in Emotional Intelligence (PSG and EBW Global Advanced Practitioner) Psychometric Testing Levels A+B, Stress Management and Cognitive Behavioural Therapy.
Justine is currently using her expertise to help leaders and managers with her 3-step system ACT.
ASSESSMENT – A 20-minute psychometric assessment that measures the 8 traits that predict success in the workplace (such as adaptability and resilience) with a 90-minute follow-on consultation.
COACHING – A follow up coaching package specifically tailored to the needs of the individual, team or organisation.
TRAINING – A set of training workshops in Emotional Intelligence to help teams develop their communication, collaboration and self-awareness.
Justine's core values of integrity, respect and professional development have led her to work with a variety of organisations, where she has helped individuals and organisations to flourish.
In her spare time Justine likes to write. In 2014 Hachette Books Ireland published a book she wrote with her father. 'Conversations with my Father: Jack Kyle,' which sold over 10,000 copies.
Webinar Details
This Zoom webinar is being hosted by our colleagues Prospectus Management Consultants
Please note that zoom details will be emailed to you 24 hours before the session. A Q&A session will be facilitated towards the end of the webinar via the chat box. Any questions not answered during the live broadcast will be answered offline and circulated with a recording of the webinar.